The following fieldtrips were held during the meeting:
Tour of the Reykjanes Peninsula, Tuesday 26th August, 8 hrs. Trip leaders: Sveinn P. Jakobsson & Gillian R. Foulger. This is the peninsula to the southwest of the conference location. Features: Four en-echelon spreading centers, the direct on-land continuation of the Reykjanes ridge, with tuyas, basalt flows, picrites and geothermal areas.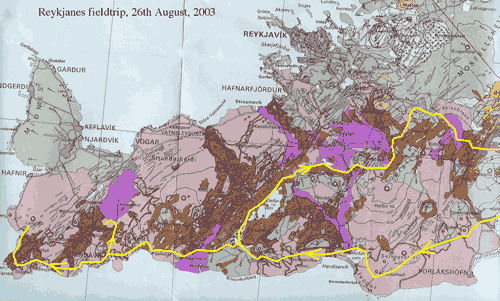 Planned route of the Reykjanes Peninsula fieldtrip.
Tour of the Hengill ridge-ridge-transform triple junction, Thingvellir, Geysir and Gullfoss, Thursday 28th August, 8 hrs. Trip leaders: Gillian R. Foulger & Axel Bjornsson. The conference location is in the centre of this triple junction and the other locations are nearby. Features: Multiple volcanoes within this unstable triple junction, a spreading ridge segment, geothermal areas, the Nesjavellir geothermal power station, the Thingvellir rift zone, the great Geysir erupting hotspring, the Gullfoss waterfall.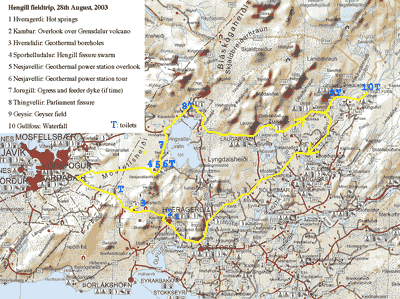 Planned route of the Hengill fieldtrip.
South Iceland, Saturday 30th August - Tuesday 2nd September, 4 days. Trip leaders: Sveinn P. Jakobsson & Gillian R. Foulger. This post-conference fieldtrip visited locations including those shown on the map below. Geographical, geological, and other maps of Iceland may be ordered from http://www.lmi.is/landsurvey.nsf/pages/index.html
Map showing locations of field sites visited.
Features included: A visit to Heimaey and the volcano Eldfell which erupted in 1973 and buried much of the town, localities within the South Iceland Fracture Zone, sites peripheral to the Eyjafjallajokull and Katla sub-glacial volcanoes, the Eldhraun lava from 1783, the glacial outwash plain of Oraefi, the Jökusá periglacial lagoon, the great Eldgja eruptive fissure, the Torfajokull mixed-lava central volcano and Hekla volcano.
Day 1: The Westmann Islands (Vestmannaeyjar).
Fly to Heimaey, the largest of the Westmann Islands. Geology of Heimaey and the 1973 eruption products of Eldfell. Fly back at 5 pm.
Dinner and overnight at Leirubakki.
Day 2: Thjorsardalur-Burfell-Selsund-Seljaland-Hvammsmuli.
Dinner and overnight at Drangshlid..
Day 3: Dyrholaey-Hjörleifshofdi-Kudafljot-Holmsa-Sida-Oraefi.
Dinner and overnight at Hunkubakkar.
Day 4: Eldgja-Kirkjufell-Landmannalaugar-Ljotipollur-Domadalur-Hekla.
Dinner and overnight in Reykjavik.